I play on PC with current patch and Steam online.
My Mods are:
ActiveMods=CapnbubsAccessoriesPack
ActiveMods=EvacAll
ActiveMods=MilitaryCamouflagePatterns
ActiveMods=ReplikantsCustomFacePaints
ActiveMods=FullCharacterCustomizationFromStart
ActiveMods=OverwatchAll
ActiveMods=ShowMeTheSkills
ActiveMods=InkAndPaint
ActiveMods=FixedTargeting
ActiveMods=StopWastingMyTime
ActiveMods=FreeCameraRotation
ActiveMods=FixedPips
ActiveMods=FlankPreview
ActiveMods=TechTree
ActiveMods=LW2TacticalSuppressors
ActiveMods=LW_Overhaul
ActiveMods=MoreMapsPack
I have a Problem with my current Savegame. My English is not so good but i made a screen shot. As you can see the game want me to contact Eastern America but I already finished that step.
First of all I contacted all areas and after that I got the quest for contacting Estern America. Untill now I liberated just a single area. The quest appeared only when I finished this first liberation.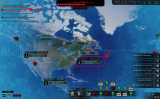 If you need I can send you a save game. Please help me. Can't continue to play because I'm afraid to lose.